Hilton Head Island's Adventure Professionals
™
Hilton Head Flats Fishing
with
Live Oac
Flats Fishing Charters in Hilton Head
The term "Flats" refers to the flat shallow waters such as the low tide mud flats or the high tide grass flats... places where fish feed, spawn, and hide from predators like dolphins and sharks.

A "flats" boat is not a "flat-bottom" boat… that's a common misconception. A "flats" boat is a technical fishing boat designed to get into extremely shallow water. They still have a v-hull and are comfortable to ride in. You'll notice an elevated platform in the rear of the boat that allows your experienced Hilton Head fishing guide to quietly push-pole the boat in extreme shallow water, with a birds-eye-view advantage to see the target fish.

Our Yellowfin 17 Skiff, "Stingray", is an incredible craft that can travel in as little as 6 inches of water but also handles deeper open water like a champ. You'll be astounded that a skiff can ride so well when you experience a Yellowfin. It can handle up to 3-4 guests depending on the scenario, and fishes everything from shallow water reds to cobia and tarpon in open water. It's also perfect for that solo angler (or two) who want to get back to tailing reds in the marsh. This boat lets you sneak around like a fish ninja!

We stalk the flats for tailing redfish, flounder, the occasional sheepshead, black drum, and our favorite hammerhead shark the "bonnethead". Flats fishing is extremely tide sensitive, and our tide schedule shifts every day. There's usually an ideal window during the tide that we have the best opportunity to catch fish in the flats. During other parts of the tidal cycle, we'll engage in other approaches. On a typical flats boat fishing charter, we might also spend time out in the deeper creeks or sounds. In open waters we can chase Jack Crevalle, bluefish, or Spanish, or anchor up and drop live bait for Tarpon, Cobia, and sharks.
Year Round, weather permitting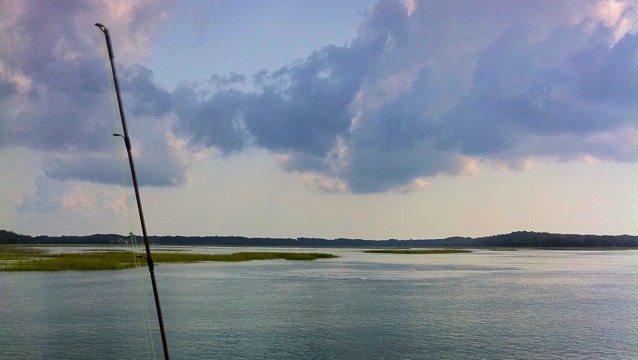 Not sure which fishing boat or trip is right for your group? Call a Live Oac adventure specialist and we'll help guide you. We offer trips for all ages and experience levels. We'll match you with the best boat, the best guide, and the best approach to meet your expectations.
Live Oac's Hilton Head Activities: